Firefox Extensions >

WebSitePulse Transaction Recorder Extension



WebSitePulse Transaction Recorder Extension

Latest version: 1.9
Nov 18, 2011 - 48 KB

Latest Changes (Full Changelog)
* Added support for Mozilla Firefox 9

System requirements:
- Firefox 1.5 or higher.

Install from: Mozilla Addons or WebSitePulse

The WebSitePulse Transaction Recorder for Firefox browser works as a browser extension and provides an easy way to record, edit, store and upload e-business transactions used with the web transaction and web application monitoring services.

Main features:

Supports login forms and form submittal;
Supports secure pages (HTTPS);
Supports frames, iframes and AJAX calls;
Supports popup windows;
Supports Java-Script;
Supports all Web 2.0 components
Compatible with every OS, the Firefox browser is compatible with
Recommended for:
Linux, Mac and Windows users
All kinds of websites and applications, including dynamic websites
Websites, which use Java-Script, popup windows, AJAX and other Web 2.0 components

Using the recorder:
Once the recorder is installed, it displays its buttons underneath the browser address bar. To start recording, press the "record" button, enter the starting URL and browse through the website exactly the way you want the transaction to be recorded. To end the recording, click the "stop" button. Press the "edit steps" button to open the steps editing sidebar (more on this below). The "play" button will replay all recorded steps. The "reset" erases everything recorded.





Use the "save" and "open" buttons to store and reopen recorded transactions locally on your hard drive, if you do not want to upload them to WebSitePulse right away. To save a recorded transaction to your WebSitePulse service account, use the "upload" button.





The "edit steps" button will open a sidebar with all individual steps displayed and their respective properties some of which can be edited while recording or after recording.





Once recorded, the transaction can be saved or uploaded to your service account.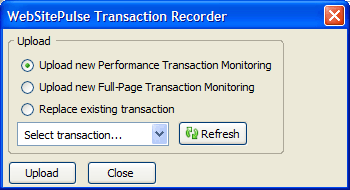 The Recorder settings will save your log in information and allow for automatic transaction upload to your account. You can also turn on and off the recorder.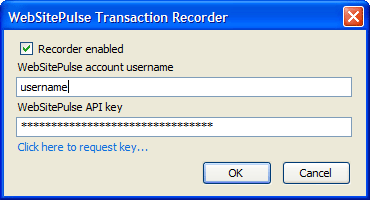 The Recorder "options" and "help" menus are also available under the "Tools" menu of the browser.

You can record and save web transactions without a WebSitePulse account, but to upload them for monitoring you will need one. If you do not have a service account, you can start a 30-day free unrestricted trial or subscribe to our paid services.

You can find your API KEY here: http://www.websitepulse.com/utilities/wsdlkey.php

Please check again this web page for extension updates and helpful information.

If you would like to send us your feedback, to recommend additional features for this extension or to suggest other extensions, please email us.